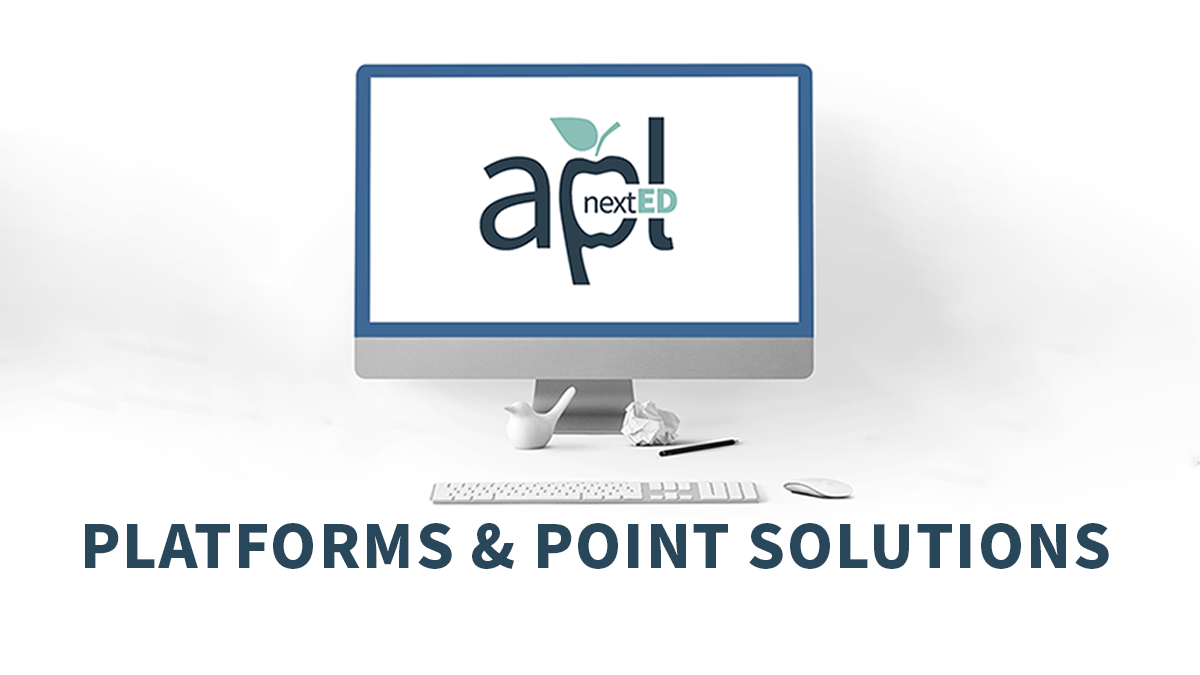 Institutions require a lot of detailed work surrounding retention trends, course listings and content, staffing, and other administrative items. There are multiple ways to tackle these tasks. An institution may choose to utilize point solutions for each task, or an academic operations platform that allows them to perform multiple functions in one system. 
This post will outline the differences between point solutions and an academic operations platforms and explain how institutions can maximize efficiency and resources with the right system.
First, some definitions:
Point Solutions:
Point solutions are individual responses to individual problems. With point solutions, one, specialized, software solves a single issue. Institutions typically use many different point solutions.
Platforms:
Platforms, on the other hand, are more comprehensive and help with a broad array of tasks. Platforms support many functions and take place within one, centralized database. Platforms simplify the collection and analysis of data. Instead of searching across multiple, digital or physical locations, users can access any data they need in one spot.
How Platforms Can Help
Let's say your university needs to begin the process of accreditation. Instead of reaching out to many different departments and individuals, a platform puts all of the information you would have to seek out into one place. This centralizing of data is one of the largest values of using a platform, and is the reason many institutions are drawn to using them.
Corporations often refer to these platforms as ERPs, or Enterprise Resource Planning. ERPs act as a facilitator between different components of an enterprise. When formerly separated areas are tied together data is shared among the entire company and becomes more transparent. Data transparency is a tremendous benefit for institutions since there are typically many faculty and staff employed across multiple departments, colleges and campuses. This shared data and information makes tasks like accreditation reporting much more manageable.
Many platforms utilize a Software as a Service (SaaS) model where users access the system through the internet instead of individually downloading the program. This provides a convenient way for faculty and staff to access information at their office or working remotely. Saas platforms also help institutions save room on their hard drives and allows space for more data through the cloud. Using the example of accreditation, the large volume of information that needs to be compiled will not take up space on faculty computers and device storage will not become an issue.
Additionally, when using one platform instead of multiple point solutions, institutions can save valuable IT resources. Instead of maintaining multiple software systems, IT departments manage one platform that has one set of operating rules.
Having one platform also benefits faculty and staff outside the IT department. Users only have to be taught one program, instead of becoming overwhelmed with a large number of systems to learn. Faculty can then have more time to assess student needs.
Another benefit to platforms is their ROI. There is a lot less labor involved in large projects like accreditation when faculty no longer have to collect and organize information manually, which dramatically reduces the expense to institutions. Having one platform reduces overall software costs as well. Instead of paying for multiple licenses or systems, institutions pay a fee for one platform.
A Platform for Higher Education
At APL nextED, we have organized all areas of academic operations into one central hub we call an Academic Operations Platform to streamline higher education proceedings. 
This comprehensive platform was built specifically for higher ed academic teams by a former university administrator and educator. All of the benefits mentioned above are included in our platform, as well as many more. APLnextED provides multiple modules within the platform that gives users control over different areas of academic affairs. The following features are available in APL nextED: a Faculty Portal, Course Staffing, Contracts, Compensation, Reporting (Accreditation and Assessment), Professional Development, Site-Based Learning and Recruitment.
You can learn more about the function of each of these modules here.
Schedule a demo to learn how APLnextED's platform can boost efficiency and decrease costs at your institution.